Alumni Author Talk - The Devil's Dictionary with Steven Kotler (A&S '93)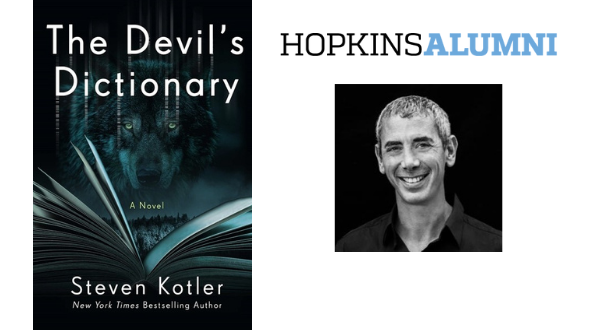 Sponsored by the Johns Hopkins Alumni Association and the Arts, Entertainment, Media, and Entrepreneurship Affinity

Join us as we hear from Steven Kotler (A&S '93), one of the world's foremost experts on human peak performance and the New York Times bestselling author of The Art of Impossible, The Rise of Superman, and others, as he returns to thrill readers in THE DEVIL'S DICTIONARY (St. Martin's Press; April 19, 2022; Hardcover $27.99), an action-packed cyberpunk novel that will also appeal to fans of cli-fi—as it provides a serious approach to addressing the myriad complex issues surrounding climate change.
Join from a PC, Mac, iPad, iPhone or Android device:
Please click this URL to join. https://jh.zoom.us/j/98747322087
Or join by phone: US: +1 301 715 859
Webinar ID: 987 4732 2087

Releasing just in time for Earth Day 2022, THE DEVIL'S DICTIONARY addresses key conservation issues and explores groundbreaking ideas about how to preserve species and ecosystems, including mega-linkage—or those large areas of rewilded land linked together by migration corridors that are starting to be implemented around the world.

The twist is that—unlike most cyberpunk and cli-fi, THE DEVIL'S DICTIONARY is not a dystopian novel. Says Kotler, "I'm a big believer in the power of imagination to shape the future and the power of fiction to expand the imagination. I wrote The Devil's Dictionary to provide an alternative vision of our environmental future. If we can't imagine this possibility, we'll never create this future. I wanted to bridge that gap, but had no interest in creating a perfect utopian world. I wanted a near-term version of our world where we've battled back the worst parts of species die-off and climate change."

To create this world, Kotler needed to explore the idea of "empathy-for-all." This is the ability to feel empathy for all living beings, not just humans, but for plants, animals, and eco-systems—or what scientists call "cross-species empathy." Enter Lion Zorn, also the protagonist of Kotler's breakout novel Last Tango in Cyberspace, who is the first of his kind―an empathy tracker, an emotional forecaster, with a felt sense for how culture evolves, and the future arrives.

When a routine em-tracking job goes sideways and em-trackers themselves start disappearing, Lion finds himself not knowing who to trust in a life and death race to uncover the truth. And when the trail leads to the world's first mega-linkage, a continent-wide national park advertised as the best way to stave off environmental collapse, and exotic animals unlike any on Earth start showing up―Lion's quest for truth becomes a fight for the survival of the species.

Perfect for fans of William Gibson and Neal Stephenson, THE DEVIL'S DICTIONARY is a unique blend of eco-fiction and traditional cyberpunk that explores hot topics in psychology, neuroscience, technology, as well as ecological and animal rights issues.

Filled with science-based brilliance and cult comic touches, this groundbreaking cyberpunk science fiction thriller will make you laugh and make you think and mostly keep you turning pages until long after your bedtime. Plus, there are killer robotic polar bears in the book. And, seriously, who doesn't love a good killer robotic polar bear tale.

This program will be presented on Zoom and moderated by Elena Stokes (A&S '96)
Disclaimer: The perspectives and opinions expressed by the speaker(s) during this program are those of the speaker(s) and not, necessarily, those of Johns Hopkins University and the scheduling of any speaker at an alumni event or program does not constitute the University's endorsement of the speaker's perspectives and opinions.