Fake News From the Flood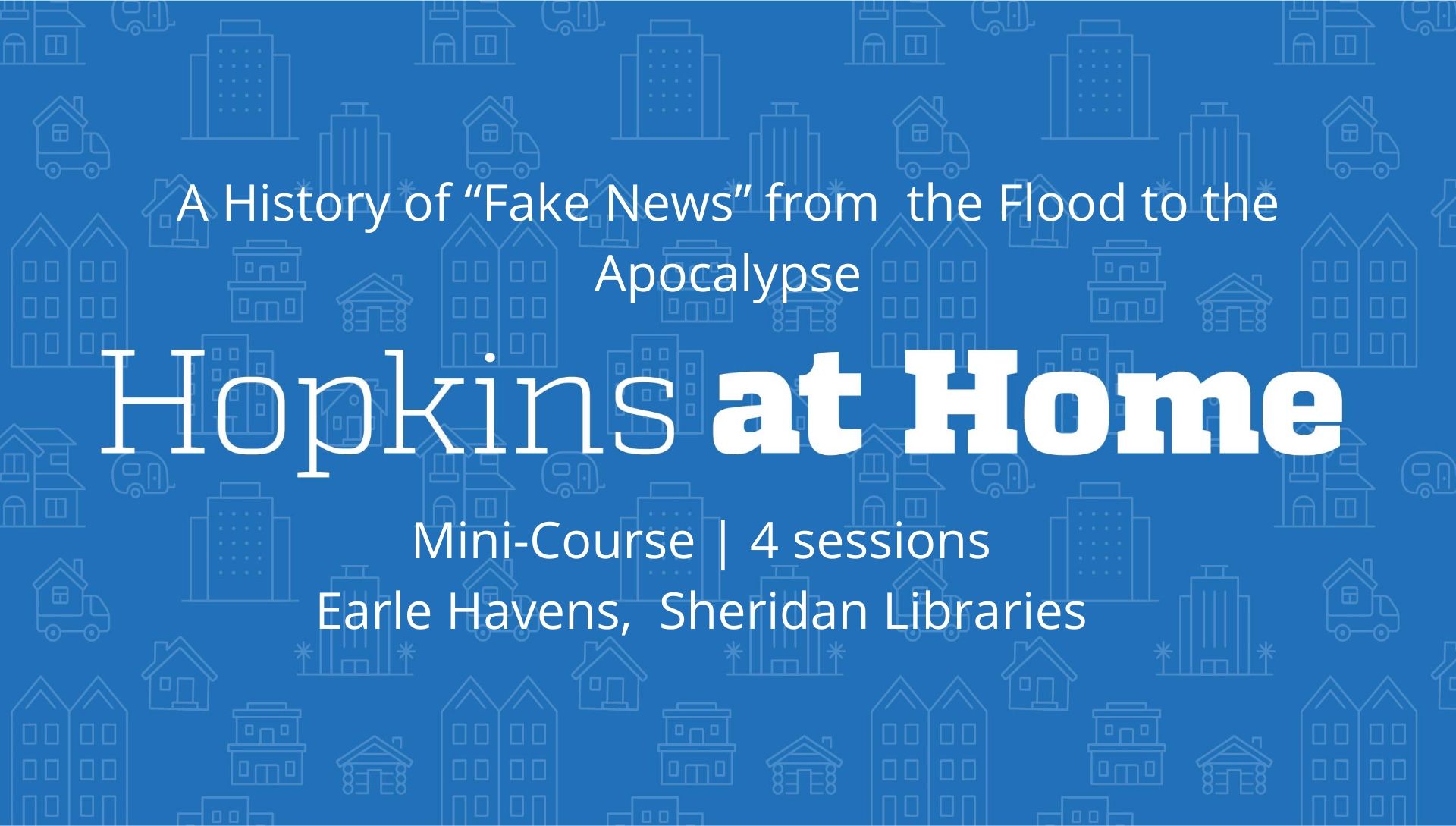 Brought to you by Hopkins at Home
A History of "Fake News" from the Flood to the Apocalypse
April 19 - May 12
Coursera Lectures and Live Discussions
4 weeks (8 sessions)
Recorded Lectures:
Lectures will be shared via Coursera on Sundays.
Live Discussions will be held Tuesdays from 7 PM-8PM EDT.
Course Description
In our digital age of hacking, online bots, and trolls stealing, faking, and confounding information across the Internet, it is often forgotten that "fake news" has, in fact, always been with us. The history of fakes, lies, and forgeries transcends human history and encompasses nearly every discipline within the liberal Arts, from literature, art, and philosophy, to history, religion, and archaeology. Human civilization has been filling gaps in the historical record and inventing alternative narratives for all sorts of reasons: political, commercial, evangelical, and personal. This course examines this dark undercurrent within human achievement across historical time, exploring specific examples of historical and literary forgeries that date from the biblical Flood to the future Apocalypse.
We will explore the textual traditions of false archaeological discoveries and fabricated epigraphic fragments from classical antiquity, manufactured time capsules bearing pagan prophecies of the coming of Jesus, fake "illuminations" of Christopher Columbus and Joan of Arc, preposterous accounts of the world's great "travel liars," and even look at books from "Shakespeare's own library" bearing his personal "annotations."
In the process, we will learn that history's fakes and forgeries are also, in part, creative and imaginative enterprises that require considerable knowledge, creativity, and even inspiration, to pull them off effectively. At every stage, this on-line mini-course will draw upon the riches of JHU's own Bibliotheca Fictiva—the world's premier rare book and manuscript collection dedicated to literary forgery across the millennia.
Want to Explore More?
Earle Havens, ed., Fakes, Lies, & Forgeries: Rare Books and Manuscripts from the Arthur and Janet Freeman Bibliotheca Fictiva Collection (2nd ed., rev.; Baltimore: Sheridan Libraries, 2016)
https://www.oakknoll.com/pages/books/129201/earle-havens-ed/fakes-lies-and-forgeries
Walter Stephens and Earle Havens, eds., Literary Forgery in Early Modern Europe, 1450-1800 (Baltimore: Johns Hopkins University Press, 2018)
https://jhupbooks.press.jhu.edu/title/literary-forgery-early-modern-europe-1450%E2%80%931800