Hopkins Symphony Orchestra Evenings Part III - Beethoven's Symphony No. 9: United Through Joy

Sponsored by the Hopkins Symphony Orchestra and the Arts, Entertainment, Media, and Entrepreneurship Affinity

There is no piece like Ludwig van Beethoven's 9th. Its scope is cosmic and its message earth shakingly optimistic. First performed in Vienna on May 7, 1824, the symphony is regarded by many critics and musicologists as Beethoven's greatest work and one of the supreme achievements in the history of music. WBJC radio personality, Jonathan Palevsky, joins Hopkins Symphony Orchestra Music Director, Jed Gaylin, as as we watch video of the all-encompassing finale, pausing to discuss musical techniques and text in this still every surprising miracle of music.
Join from a PC, Mac, iPad, iPhone or Android device:
Please click this URL to join. https://jh.zoom.us/j/97321153912
Webinar ID: 973 2115 3912

Click HERE to learn more about the Hopkins Symphony Orchestra.

MEET OUR SPEAKERS
Dr. Jed Gaylin, Music Director, Hopkins Symphony Orchestra

As Music Director, Dr. Jed Gaylin leads the Hopkins Symphony Orchestra (HSO), the Bay Atlantic Symphony, and Two Rivers Chambers Orchestra. He has been the Music Director of the HSO since 1993 during which time the orchestra has grown in size, prominence, and artistry into one of the country's most accomplished university orchestras. The high standards of the orchestra and Jed's belief in art's ability to knit together and ignite new energy in our communities have resulted in collaborations with arts groups throughout Baltimore City, as well as with other non-profit and civic organizations.
Dr. Gaylin was awarded the prestigious Presser Music Award to conduct in Russia and a National Endowment for the Arts award to conduct in Mexico. He also served as the Director of Orchestras of the Cervera International Music Festival and Summer Course (Spain). He has been Principal Guest Conductor of the National Film and Radio Philharmonic (Beijing, China) as well as Principal Guest Conductor of the Sibiu State Philharmonic (Romania.) He has led numerous orchestras, taught many master classes, and lectured throughout the world including at the Shanghai Conservatory, the Peabody Conservatory, and the Eastman School of Music.
Dr. Gaylin earned both a Bachelor of Music in piano and as Master of Music in conducting at the Oberlin Conservatory, and a Doctor of Musical Arts in conducting at the Peabody Conservatory. He attended the Aspen Music Festival as a Conducting Fellow.
Dr. Gaylin makes music with spirit and intellect, soul and rigor, a deep knowledge of world cultures, human nature, and the arts – that is, with his whole being. His approach to music, musicians, and life is rare; an old world commitment to the study and depth of conception, combined with a welcoming presence and warm engagement – both on and off the podium.
To learn more about Dr. Jed Gaylin, please visit his website - https://jedgaylin.com/
Jonathan Palevsky (Peabody '86), Program Director, WBJC 91.5 FM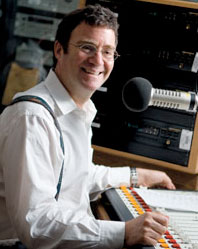 Jonathan Palevsky (Peabody '86) is a Program Director at WBJC 91.5 FM, Baltimore's Classical Music Station, where he has worked since 1986, originally as a part-time announcer. He has been the station's Program Director since 1990. He is originally from Montreal and came to Baltimore to study classical guitar at the Peabody Institute. He has hosted just about every conceivable time slot at WBJC, but can regularly be heard hosting the WBJC Opera Preview, Face the Music, and Music in Maryland. He is also the past president of the Association of Music Personnel in Public Radio. His current off-air obsessions include cycling (mostly, to work), skiing, playing guitar, and hosting Cinema Sundays at the Charles Theatre. Jonathan can be reached at jpalevsky@aol.com.