Lunch with the Libraries: A Virtual Tour of Tin Pan Alley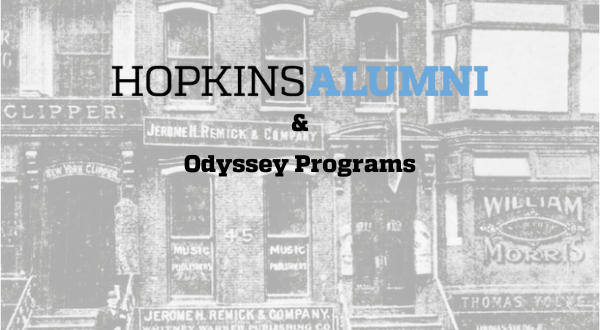 Sponsored by the Sheridan Libraries & University Museums, the Friends of the Johns Hopkins University Libraries, and the Arts, Entertainment, Media, and Entrepreneurship Affinity

"It was the New York of 1883, the city of gas lamps and horse cars, of bustles and ballads." So begins the autobiography of Isidore Witmark, who with his brothers ran the powerhouse publishing company M. Witmark & Sons. At the end of the 19th century, the largest cluster of music publishers and venues was in Union Square, between 14th and 18th street. Over the next 60 years, Manhattan saw both an explosion and migration of publishers and venues that cemented the entertainment industry and came to be called Tin Pan Alley.

This lecture will explore Tin Pan Alley through a newly created interactive map, allowing us to visualize the interactions between music publishers, venues, and transportation networks in New York City during this brief but productive era. For some information about Tin Pan Alley, click HERE.

This program will be presented on Zoom. A link will be shared in advance of the program.

Don't miss our other programs in our Lunch with the Libraries Series:
November 19th - Spanish Sueltas and the History of Publishing in Spain

The perspectives and opinions expressed by the speaker(s) during this program are those of the speaker(s) and not, necessarily, those of Johns Hopkins University and the scheduling of any speaker at an alumni event or program does not constitute the University's endorsement of the speaker's perspectives and opinions.
Tuition Remission and Refund Policies
Full-time JHU faculty/staff, their spouses or same-sex domestic partners, JHU retirees and their spouses or same-sex domestic partners are eligible for tuition remission. The tuition remission form is required. All tuition remission forms and details on eligibility can be found here and should be returned to odyssey@jhu.edu.
After registration, tuition remission eligibility will be confirmed by the Odyssey registrar. If eligibility cannot be confirmed, you will be required to pay full tuition for the course. Under the terms of the University's remission program, Hopkins employees must withdraw in writing at least five working days before the first class to receive a 100% refund. No partial refunds are given to JHU employees and affiliates.
Please visit the registration and policies page for more information.