Lunch with the Libraries: Spanish Sueltas and the History of Publishing in Spain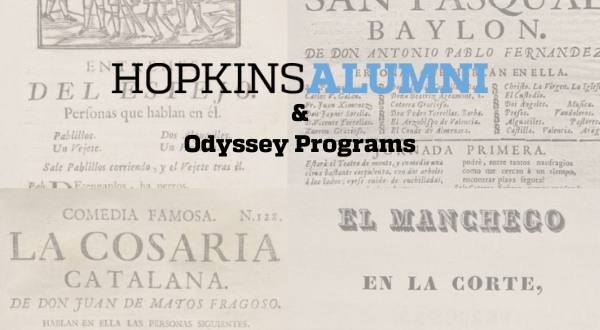 Sponsored by the Sheridan Libraries & University Museums, the Friends of the Johns Hopkins University Libraries, and the Arts, Entertainment, Media, and Entrepreneurship Affinity

Join Dr. Mack Zalin and learn about the Sheridan Libraries' recently acquired collection of comedias sueltas, a remarkable assortment of more than a thousand ephemeral editions of Spanish plays from the 18th, 19th, and 20th centuries. In addition to discussing the context of their original production, Dr. Zalin will also talk about how the JHU sueltas are being used for teaching and research in special collections at Johns Hopkins and beyond. This program will be presented on Zoom. A link will be shared in advance of the program.

We encourage attendees to read this short overview of comedias sueltas in advance of the talk.

Don't miss our other programs in our Lunch with the Libraries Series:
December 10th - A Virtual Tour of Tin Pan Alley

The perspectives and opinions expressed by the speaker(s) during this program are those of the speaker(s) and not, necessarily, those of Johns Hopkins University and the scheduling of any speaker at an alumni event or program does not constitute the University's endorsement of the speaker's perspectives and opinions.
Tuition Remission and Refund Policies
Full-time JHU faculty/staff, their spouses or same-sex domestic partners, JHU retirees and their spouses or same-sex domestic partners are eligible for tuition remission. The tuition remission form is required. All tuition remission forms and details on eligibility can be found here and should be returned to odyssey@jhu.edu.

After registration, tuition remission eligibility will be confirmed by the Odyssey registrar. If eligibility cannot be confirmed, you will be required to pay full tuition for the course. Under the terms of the University's remission program, Hopkins employees must withdraw in writing at least five working days before the first class to receive a 100% refund. No partial refunds are given to JHU employees and affiliates.
Please visit the registration and policies page for more information.