People and the Planet: The Ways Humans Impact the Earth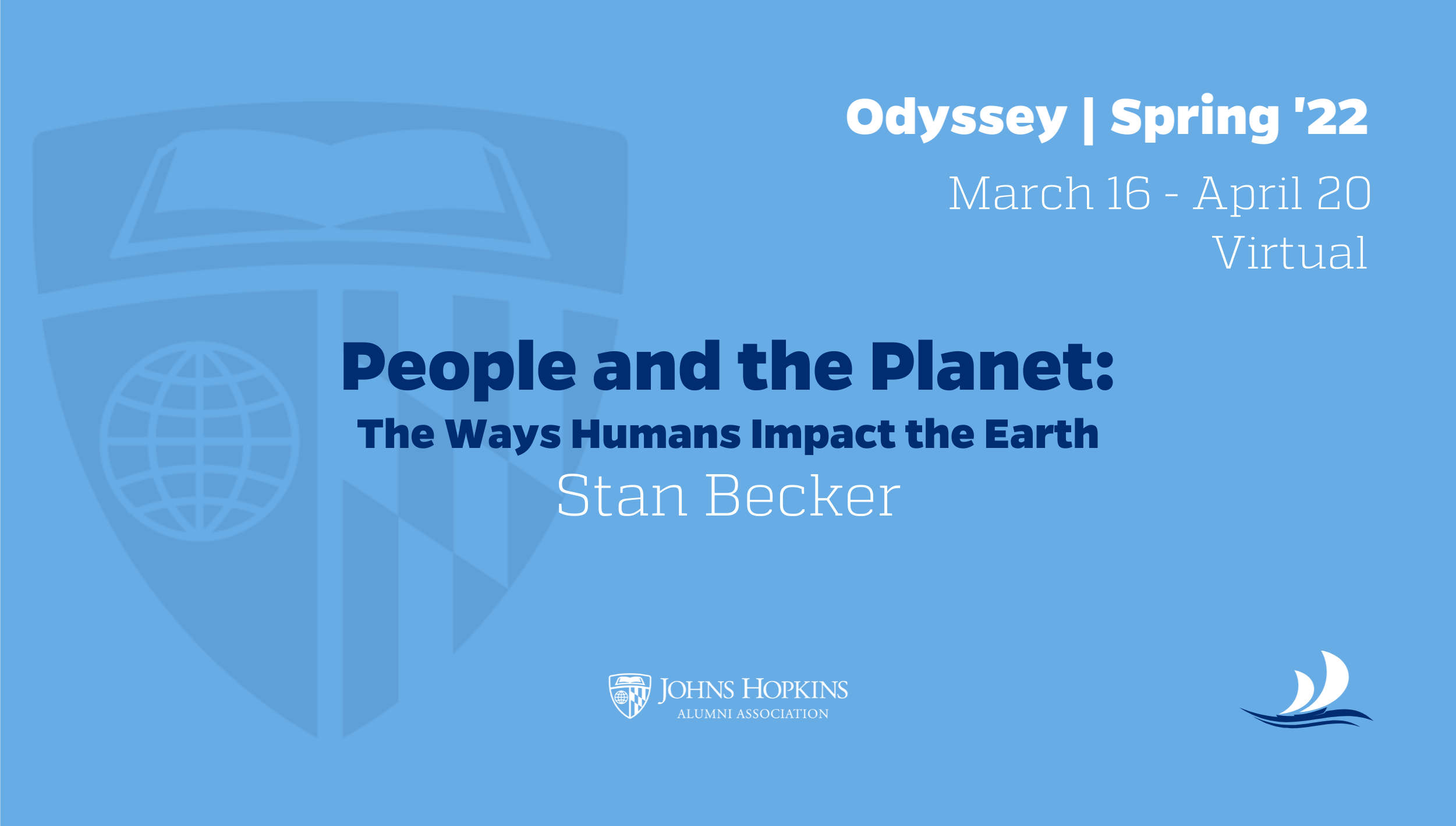 Brought to you by Odyssey

March 16, 2022 - April 13, 2022
Wednesdays, 7:00 - 8:15 PM ET

Terms like climate crises, population decline, and global warming fill the news on any given day, but what do they mean to us? Humans have been a part of the Earth's ecosystem for approximately 300,000 years but the most dramatic impacts of people on this system have occurred in the last 300 years. How did we get where we are today? The major impacts of humans on planetary ecosystems include global warming, overuse of water from aquifers and rivers, and massive deforestation which leads to steep declines in biodiversity including species losses. The last 200 years have seen rapid population growth - from one billion in about 1830 to approximately 8 billion today with an increase of over 200,000 persons every day.

This course will introduce you to the history of the population including which national populations are currently growing or shrinking, the roles of agricultural and economic growth on population growth, globalization and what it means to communities across the globe, and the ways that population size are estimated – today and for the future. What will this planet look like in 2050? What role does the climate crisis play? What about non-renewable resources? We will explore potential impacts including migration, mortality risks, and rates, and how levels of fertility and contraception are changing around the world as well as incentives and disincentives for childbearing and the small family norm. Finally, we will explore some of the innovative ways that science and technology could mitigate the impacts of global warming, including negative emissions technologies, desalinization to provide access to potable water, and alternative energy sources.

Johns Hopkins Tuition Remission Policies
Current and retired full-time Johns Hopkins faculty and staff, as well as their spouses or domestic partners, are eligible for tuition remission. Eligibility details can be found here.
After registration, tuition remission eligibility will be confirmed by the Odyssey registrar. If eligibility cannot be confirmed, you will be required to pay full tuition for the course. Under the terms of the University's remission program, Hopkins employees must withdraw in writing at least five working days before the first class to receive a 100% refund. No partial refunds are given to JHU employees and affiliates. All other participants should review the JHAA Event