R.A.C.E. Matters Speaker Series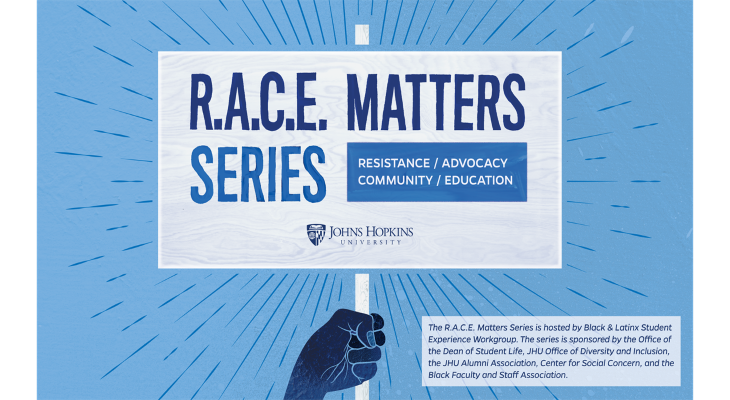 Sponsored by Johns Hopkins Alumni Association, Society of Black Alumni, Offices of Diversity and Inclusion and Homewood Dean of Student Life and the Black Staff and Faculty Association
Please join Dr. Katrina Caldwell, Vice Provost for Diversity and Inclusion and Chief Diversity Officer, and alumnus Wes Moore '01, Rhodes Scholar, New York Times bestselling author, Army combat veteran, social entrepreneur, and Robin Hood's Chief Executive Officer, for a fireside chat. Their dynamic conversation will focus on Moore's life's work—combating poverty and wealth inequity, how to channel personal passion and commitment into action, and how to be resilient.

MEET OUR SPEAKERS
Wes Moore A&S '01,Chief Executive Officer, Robin Hood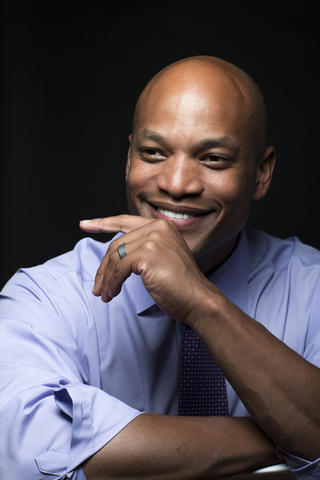 Wes Moore is the Chief Executive Officer of Robin Hood, one of the largest anti-poverty forces in the nation. He is a bestselling author, a combat veteran, and a social entrepreneur.

Wes' first book, "The Other Wes Moore," a perennial New York Times bestseller, captured the nation's attention on the fine line between success and failure in our communities and in ourselves. That story has been optioned by executive producer Oprah Winfrey and HBO to be made into a movie. He is also the author of the bestselling books "The Work," "Discovering Wes Moore," "This Way Home" and the recently released, "Five Days."

Wes grew up in Baltimore and the Bronx, where he was raised by a single mom. Despite childhood challenges, he graduated Phi Theta Kappa from Valley Forge Military College in 1998 and Phi Beta Kappa from Johns Hopkins University in 2001. He earned an MLitt in International Relations from Oxford University as a Rhodes Scholar in 2004. Wes then served as a captain and paratrooper with the U.S. Army's 82nd Airborne Division, including a combat deployment to Afghanistan. He later served as a White House Fellow to Secretary of State Condoleezza Rice.

Before becoming CEO at Robin Hood, Wes was the founder and CEO at BridgeEdU, an education platform based in Baltimore addressing the college completion and job placement crisis by reinventing freshman year for underserved students. BridgeEdU was acquired by Edquity, a Brooklyn-based student financial success and emergency aid firm, in June 2019.

Wes has also worked in finance as an investment banker with Deutsche Bank in London and with Citigroup in New York.

Wes lives in Baltimore with his wife and two children.

Dr. Katrina Caldwell, Vice Provost for Diversity and Inclusion and Chief Diversity Officer
Katrina Caldwell, Ph.D joined Johns Hopkins University as the Chief Diversity Officer (CDO) on July 1, 2020. In her role at CDO Dr. Caldwell will serve as the primary steward of the Roadmap on Diversity and Inclusion, align D&I initiatives with university priorities, and coordinate and collaborate with the university's divisions on D&I matters. Dr. Caldwell will also serve as the ex officio co-chair of the Diversity Leadership Council, alongside Ashley Llorens, Chief of Intelligent Systems Center at the Applied Physics Laboratory and chair of the Diversity Leadership Council.
Dr. Caldwell has more than 26 years of progressive leadership experience in higher education, with a focus on strategic planning and implementation. Dr. Caldwell holds a Ph.D and master's degree from the University of Illinois at Chicago and a bachelor's degree from Spelman College. Prior to accepting the role of CDO at Johns Hopkins University, Dr. Caldwell served as University of Mississippi's first vice chancellor for diversity and community engagement beginning for three years, beginning in 2017. As vice chancellor for diversity and community engagement Dr. Caldwell lead University of Mississippi's efforts to create a diverse and welcoming environment, building an infrastructure to increase community engagement, and targeting high impact areas for transformation.
**After registering, please view this event via the link here**