Uncovering Black Baltimore in Non-traditional Archives with Inheritance Baltimore's Community Archives Initiative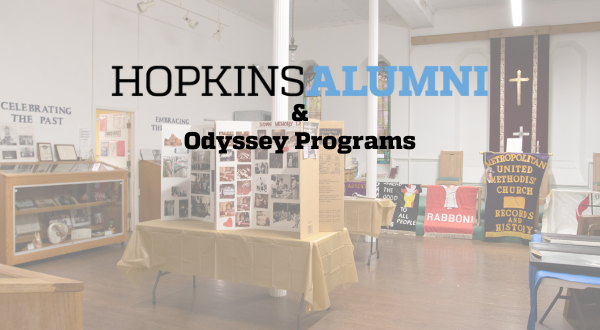 Sponsored by the Sheridan Libraries & University Museums, the Friends of the Johns Hopkins University Libraries, and the Arts, Entertainment, Media, and Entrepreneurship Affinity
Join members of the JHU-UB Community Archives Program, Tonika Berkley, Africana Archivist, Angela Rodgers-Koukoui, Outreach and Public Service Coordinator, UB RLB Library Special Collections and Archives, Bria Warren, Inheritance Baltimore Community Archives Fellow, and Deyane Moses, Former Inheritance Baltimore Community Archives Fellow and Founder, Blackives, LLC, as they discuss their upcoming exhibition, "Community Archives: Preserving Black Baltimore," on display on M-Level at the Sheridan Libraries. This exhibition will showcase the rich histories that lie within non-traditional archives in Black Baltimore and will feature items donated from the community partners, such as the Eubie Blake Cultural Arts Center, The Afro Newspaper, and three historic Black churches of West Baltimore: Metropolitan United Methodist Church, Union Baptist Church, and St. James Episcopal Church, alongside documentary photos of the Community Archives team at work.

This program will be presented on Zoom. A link will be shared in advance of the program.

To learn more about the Sheridan Libraries and how to join the Friends of the Johns Hopkins University Libraries, visit these websites:

https://www.library.jhu.edu
https://www.library.jhu.edu/give/friends-of-the-libraries/

Disclaimer: The perspectives and opinions expressed by the speaker(s) during this program are those of the speaker(s) and not, necessarily, those of Johns Hopkins University and the scheduling of any speaker at an alumni event or program does not constitute the University's endorsement of the speaker's perspectives and opinions.